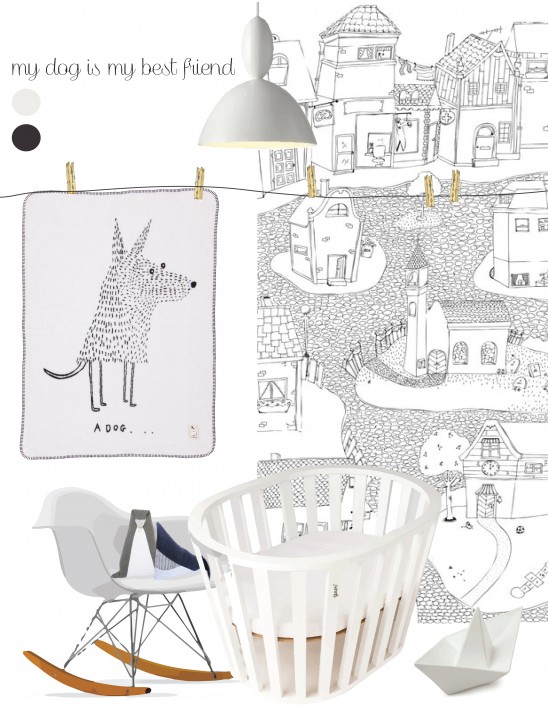 Nursery decor in a modern Black & White theme – a perfect space for your baby (and our DOG blanket)
You might think: Black & White for a baby, not really.
Actually babies reflexively prefer to look at high-contrast edges and patterns. Large black and white patterns present the highest possible contrast (100%) to the eye and thus are the most visible and attractive to babies.
(Source: The Smith-Kettlewell Eye Research Institute).
We have selected some impressive design products in Black & White that will mesmerize and entertain your baby.
Combined together, they create a perfect modern nursery theme. Our new DOG blanket in soft brushed organic cotton will soften the monochrome contrasts.
A modern design of this DOG blanket is implemented in super soft organic cotton. This blanket is perfect for a baby boy, but also as a gender neutral blanket. It will calm and sooth your baby.
With only seven items: a baby bed, baby blanket, a chair, lamps and the matching wallpaper you can quickly design your little one's space with elegance and bravura.
1.       Fab goose
2.       Muuto lamp 
4.       Chair Vitra 
6.       Kid's bed 
7.       Lamp 
You can buy this cool DOG blanket in 2 sizes: baby / small (75×100 cm ) and medium (100×150 cm) by simply clicking on the product images below.
This mood board is developed by one of the best interior designers for nursery & kid's room – Valentina Carla Caiazzo from the blog a Misura di bimbo. 
Stylish ideas for children's rooms:
If you would like to see more of some stylish children's spaces that encourage chic modernity, style and flair, take a look at the examples in Homify.co.uk's blog post. 
You will see another of FabGoose blanket there shown as a great example of a timeless item that can evoke a plush sense of sumptuousness in any room.
design your little one's space with elegance and bravura.