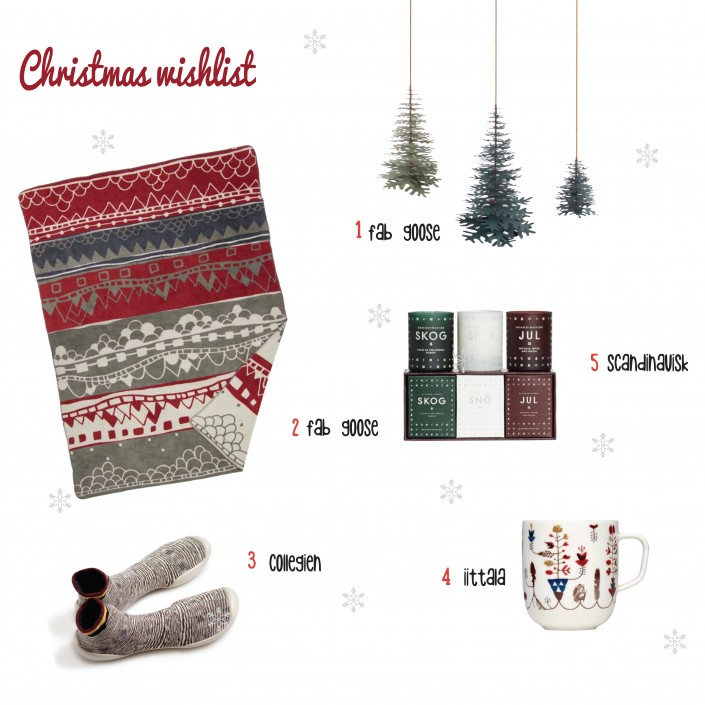 This elusive concept – HYGGE – is such an essential part of the Scandinavian winterseason (especially the Danish).
Do you want to add some 'hygge' to your life?
Or gift it to someone special?
We have collected some very 'hyggelige', cozy and colourful items above, perfect for the season (and beyond).
1. Fab goose Landscape throw
2. Fab goose 3D paper ornaments 
3. Collegien 
4. Scadinavisk 
5. Iittala Mug Varpu
Last order date is 17/12. We're offering a 10% discount on the blanket shown above, incl. free gift wrapping.
If this is something you want, why not to share this Wish List and ask for the items you like.
Buy this big, soft luxurious cotton throw Landscape and 3D Decoration kits by simply clicking on the product image: 
If you would like to have more inspiration delivered directly to you mail box, subscribe below.
You are also more than welcome to share and give us a like – use the social media icons ↓
 This mood board is developed for us by Valentina Carla Caiazzo from the blog a Misura di bimbo.