Fabgoose "curiosities"
THE MOST UNIQUE FLY IN THE WORLD
What you should know about the flies if you are a proud or potential owner of Mr. Fly guy cushion designed by Matthew Langille
or if you are just a curious person.
The profound knowledge about the flies:
Most of us have dealt with the house fly. They are annoying to say the least.
The average house fly lives about 30 days. This is good to know.
If they get trapped in your house, you don't have to worry about it being around for long.
However, we promise you that
our Mr. Fly Guy will live longer than the average fly:
Our Mr. Fly Guy is knitted in Denmark of the premium quality Italian merino wool, we have washed him before selling him to you, so he will never change his shape or loose the color.
You get the world's most clean fly in your house.
A FLY DEFINITELY NEEDS THE GLASSES.
Flies have over 4,000 lenses per eye (they only have 2 eyes) but can't see worth a darn!
Their vision may be bad but they detect movement. If you want to swat one of them, you better start out slow.
They're likely to ignore you if you're not fast.
PROUD CRAFTMANSHIP:
Matthew Langille's signature style seamlessly blends classical artistic training with youthful energy. His simple and expressive art reflects modern life in a heartwarming way that is unmatched.
It was a challenge to convert Mattew's original hand drawing into the knitted design.
But see here how close we are to the original.
Original hand drawing by Matthew Langille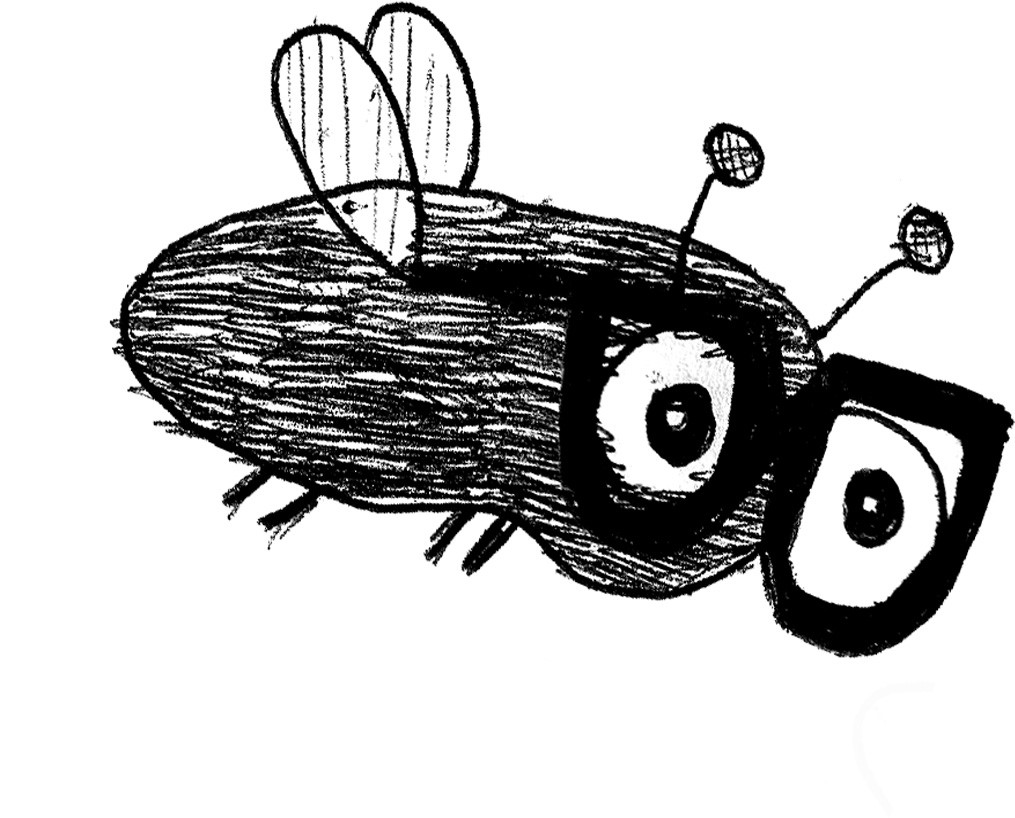 A bonus point - No poop on your sofa
Flies defecate every 4-5 minutes. That's interesting...
We can assure you that there will be no poop sessions on your design sofa.
Now you are ready
for a Mr. Fly Guy in your house
or to impress your friends with your profound knowledge about the flies.
If you would like to have more inspiration delivered directly to you mail box, subscribe below:
[mc4wp_form id="176920"]