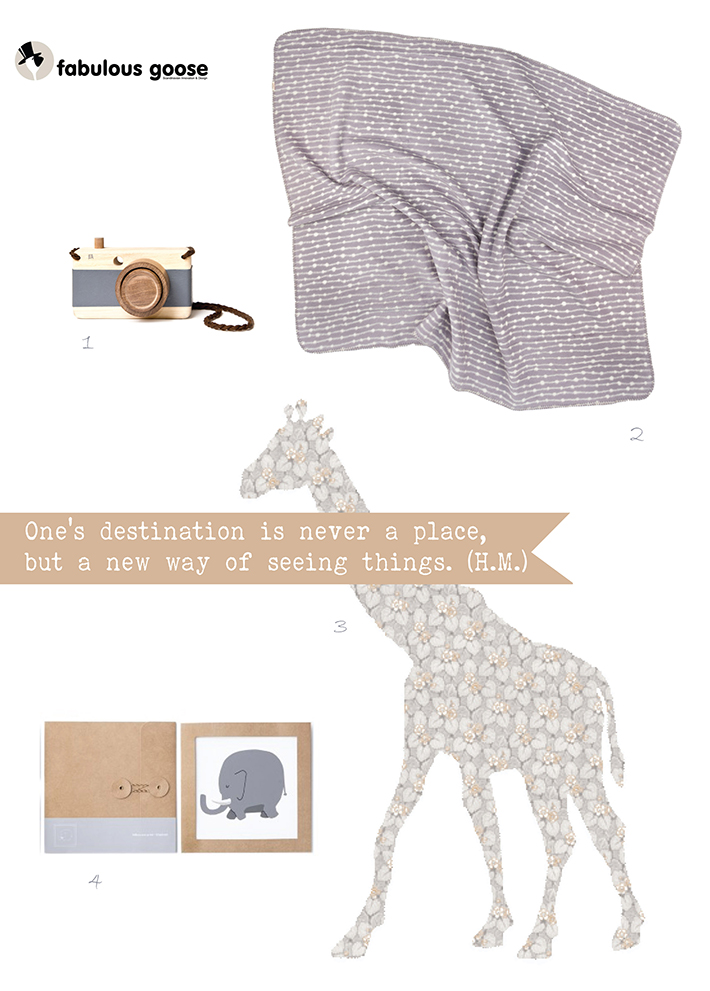 One's destination is never a place,
but a new way of seeing things.
[H.M.] Henry Miller
Children are very active and creative, and like to express themselves and be imaginative, so your child needs a creative environment that fits his lifestyle.
Our advise:
Your child might have wishes for a certain theme,
but try to avoid decorating the room in the theme of a specific princess or superhero,
instead create an environment for that figure.
Create the illusion of the theme, but not to detailed.
This mood board, developed by one of the best interior designers for nursery & kid's room – Valentina Carla Caiazzo from the blog a Misura di bimbo is a perfect example of what we mean:
here we have toys and decoration elements that create a Safari theme,
but the blanket from FabGoose is very neutral in design and will easily transition to the next interior also when your child will get older.  
1. Fanny and Alexander – wooden photo camera collectable toy
2. FabGoose super soft brushed organic cotton blanket
3. Inke giraffe
4. Fanny and Alexander – silk print picture
You can buy this beautiful Dew grey blanket by simply clicking on the product images: