Black and white nursery product ideas that can grow with your child.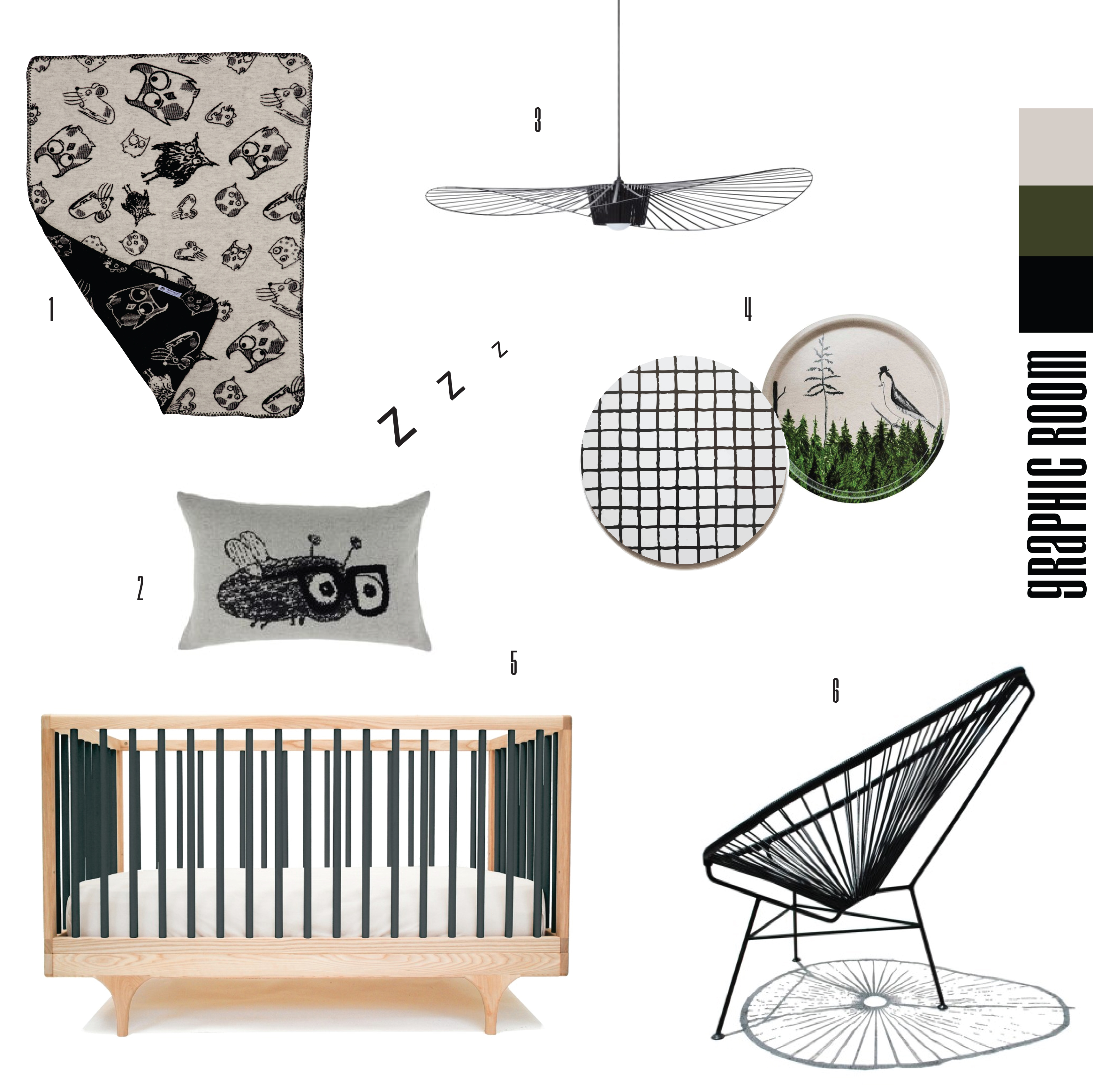 It is not the first time that we bring you the ideas for black and white décor theme for kid's room.
Read more here, here and here.
We truly believe that monochrome color scheme is very suitable for children's rooms.
Reed more about how the black & white contrast is good for your baby's eyes here.
Modern but timeless 
Furthermore, this color pallet can grow with your child – from tot to teen so that you do not need to start from scratch every 2nd or 3rd year as your child's needs will change.
Therefore investing in some timeless design products from the start will create a good base for you to build further on for many years to come. This is exactly how we like it at Fabulous Goose – quality pieces that can be used and enjoyed for many years.
Clean and graphic aesthetic of the monochrome color in your child's rooms will also easily melt in most of the interior styles to work together with the rest of your space.
Black, White and Pine tree green
This time we have added a touch of woodland green color to soften a bit the monochrome scheme – now it looks friendly, calming and stylish. Later on you can replace the green color with any other color that you child will be in a mood for, but keep the base.
In this mood board, the overall style of the monochrome schemes is not minimal at all. FabGoose soft blanket combined with a wooden bed and a bit of green in decor objects bring a cozy feel.  
Introduce a touch of quirkiness
Plates as decorative art on the wall add playfulness and touch of personal style to the decor. Of cause, you can use any of your favorite monochrome illustrations and prints with sweet phrases, big letters or graphical numbers to keep your baby's room cute and chic. My personal latest purchase for the prints for my almost 9-year-old daughter was from a Swedish museum of modern photo art.
In overall black and white is a great color scheme for having fun with print and pattern, as the limited palette unifies different styles.
We chose our Predator blanket for this mood board that features owls and mousses – quirky characters, created by Matthew Langille. Youthful and expressive style that will not outlive itself as your baby grows. Only is size. Luckily, we have this design in medium size as well for a teen bed.
Knitted Mr. Fly Guy cushion, designed by the same artist, can be used on the chair.
You can play and mix textiles and make your child's bed the most attractive and imaginative place to be.
Work with what you have
What to do if you are thinking of going monochrome in an already decorated room?
Or, perhaps, you feel nervous about committing to a monochrome scheme for a baby's room?
Here are a few short cuts:
Introduce black color through unusual decor that you can add and remove easily.
Adding an eye catchy black and white throw or cushions can instantly uplift your existing interior and give you a starting point. You will find many different designs of blankets, cushions and plaids in black & white in our Webshop here.
Introduce black decorative objects, such as knitted or wooden toys, friendly illustrations and graphic prints.
You can buy this cool Predator blanket with owls and Mr. Fly Guy cushion by simply clicking on the product images below.