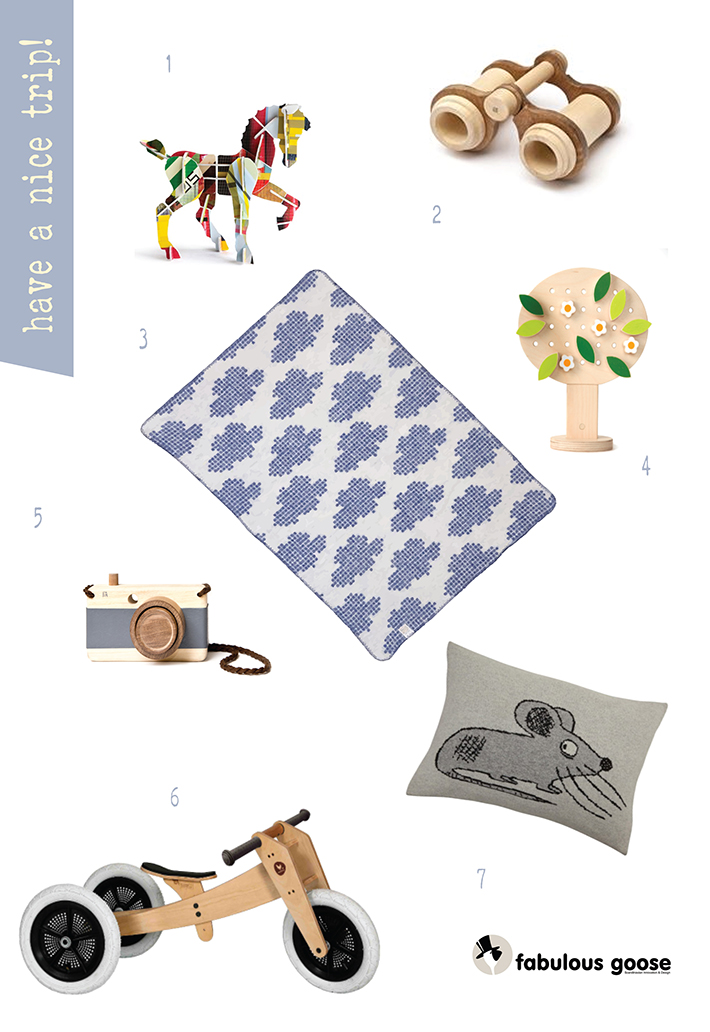 It's hard not to fall in love with the skills put into these beautiful
and sustainable toys
and interiors for your child. 
Inventive, imaginative and very attractive in the kids room as well!
We've chosen 7 items that would also be great to bring on a trip. 
Or they can become a part of the imaginative play about the faraway countries and adventures discoveries.
Those binoculars and camera would be great
to play with in the backseat of the car, or on the plane,
and the tricycle is so great to bring for that toddler
who can't walk long stretches yet,
but would definitely be able to follow along on a push-bike!
It can get chilly on the plain or with air conditioning in the car.
Your child will be happy to have a soft, handy blanket to cuddle with, relax and make the waiting time a bit cozier.
1. Studio Roof 3-D horse
2. Fanny and Alexander  wooden binoculars
3. Fab goose cloud blanket
4. Shusha Toys tree
5. Fanny and Alexander wooden camera
7. Fab goose mouse cushion
If you would like to have more inspiration delivered directly to you mail box, subscribe below.
You are also more than welcome to share and give us a like – use the social media icons ↓
You can buy this beautiful Softy Cloud baby blanket or Big Booty Mouse Woolen Cushion by simply clicking on the product images: